DigiFresh Workshop
December 15, 2021 @ 12:30 pm

-

3:00 pm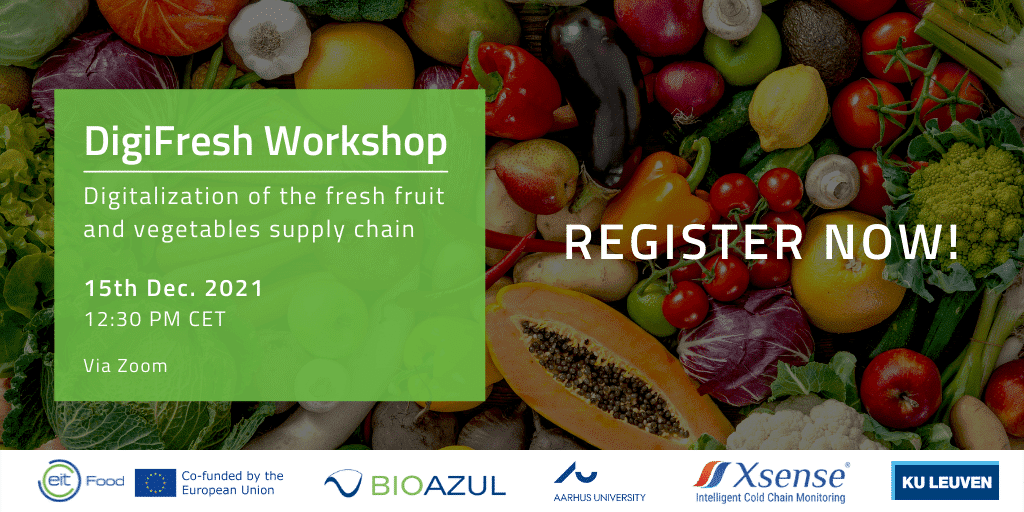 We are excited to welcome you at the DigiFresh workshop next 15th December 2021 focused on the digitalization of the fresh fruit and vegetables supply chain.
It is time to make the supply chain of fresh fruit and vegetables more digital. It is not only about converting data into bits but it is about creating a value by optimizing the supply chain management and reducing the food waste.
This workshop is organized by EIT Food, Bioazul, the Aarhaus University Xsense and KU LEAVEN as one of the main activities of the DigiFresh project. The aim of this workshop is to introduce you to the digital twin solution that can be incorporated in the supply chain of fresh fruit and vegetables to monitor the keeping quality and the remaining shelf life of the product. This solution can help in decision making on sale period and price to make sure that customers are offered with fresh produce. This can directly reduce the food waste in the supply chain as wel as at the customers home.
What will you gain from this workshop?
Insights into the digitalization of the fresh produce supply chain, the digital twins concept, the Xsense digital platform and the major outcomes of DigiFresh project. You also have the opportunity to participate in a newtorking with other professionals in the sector.
Check out the full agenda.