Rethinking Water – The event
December 2, 2021

-

December 3, 2021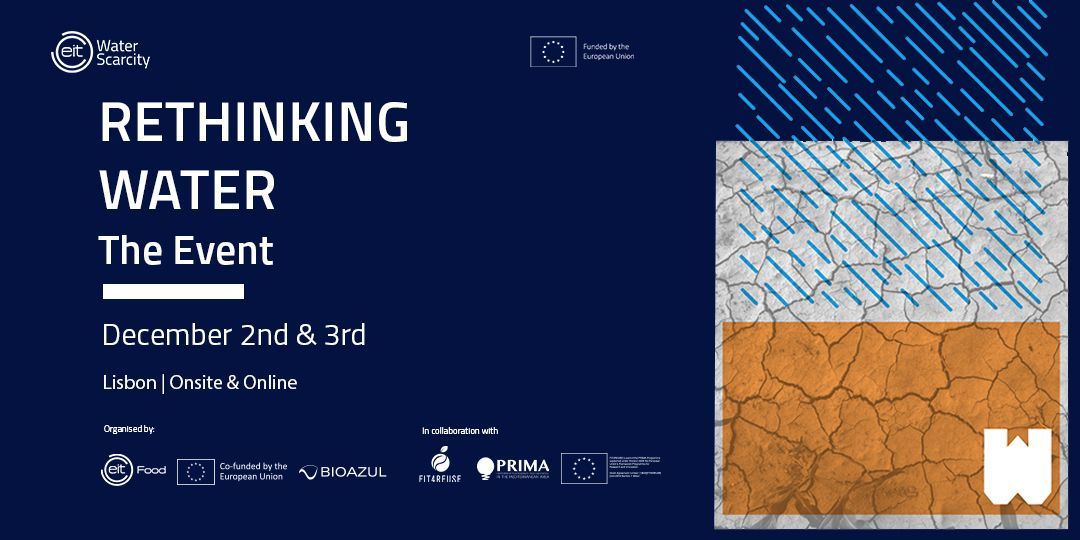 The Rethinking Water- The event will take place on December 2nd and 3rd in Lisbon. This event results of the combination of the EIT Water Scarcity Grand Event and FIT4REUSE Water Reuse Day joining efforts to make the best out of the European water community. Bioazul is one of the organizers of this event since it is a partner of both projects whose objective is to seek innovative solutions to water scarcity.
Rethinking Water event will bring together researchers, innovators, entrepreneurs, experts, and policymakers with a genuine interest in water-related issues to discuss the most pressing challenges in Europe.
The event will be hybrid: will happen in beautiful Lisbon and it will also be live-streamed. You can register here!
---
AGENDA (Portuguese time – WET) Download PDF
---
DAY 1 – 2nd of December 2021
13h30 | OPENING SESSION Elvira Domingo (EIT Food)
13h45 | Towards implementing a water-saving economy in Europe | Carmen Galindo ( EIT Food)
13h50 | Round table: Solutions and policies to cope with water scarcity. | Presenter and moderator: Eva Enyedi (EIT Climate KIC) with the collaboration of :
Fabio Masi (IRIDRA Srl)
Francesco Fatone (UNIVPM)
Marta Lima (Portuguese Water Pact, CATÓLICA-LISBON School of Business & Economics)
14h15 | Break
15h15 | FIT4REUSE – Water Reuse Day | Prof Attilio Toscano (University of Bologna)
15h25 | Greetings by PRIMA representative l Antonella Autino (PRIMA Foundation)
15h30 | Keynote speech FAO-UMA initiative for non-conventional water | Faycel Chenini (FAO & FIT4REUSE EAB)
15h45 | FIT4REUSE solutions for the use of non-conventional water resources | Participants:
Francesco Fatone (UNIVPM)
Sivan Bleich (MEKOROT)
Rafael Casielles (BIOAZUL)
Özlem Karahan Özgün (ITUNOVA)
16h30 | Break
16h45 | Assessing the impact of the use of non-conventional water resources | Matteo Vittuari (UNIBO)
16h55 | Opportunities for networking and knowledge exchange l Maria Chiara Sole (ISPRA)
17h05 | Round table – Reuse of non-conventional water resources in the innovative Water-Food-Nexus concept | Moderator: Antonia Lorenzo (BIOAZUL), with the collaboration of:
Attilio Toscano (UNIBO)
Nuno Brôco (AdP VALOR)
Simos Malamis (NTUA)
Maria Cristina Pasi (Izar)
17h55 | Closure & Networking Cocktail
---
DAY 2 – 3rd of December 2021
9h30 | OPENING SESSION | Elvira Domingo (EIT Food)
09h35 | InnoWise Scale @ EIT Water Scarcity: Supporting water innovators and entrepreneurs to the next level. | Presenter and moderator: Carmen Galindo (EIT Food) with the collaboration of:
Thomas Seitaridis (Deyaph)
Antonella Maggiori(AgrowAnalytics)
Tatiana Rodríguez(Secalflor)
Ari Kambouri(Sinafis)
Núria Guilera Grandes (Bluephage)
Matteo DallAmico (MobyGIS)
Javier Sanz Latorre (Fibsen)
Marco Ferreira (Enging)
Ingrid Nolet (Shayp)
10h35 | Success case: Aguas de Portugal & Aquacorp | Presenter and moderator: Elvira Domingo (EIT Food) with
Marta Carvalho, Innovation and Development Manager (AdP VALOR )
Pablo Pérez Robla, CEO (Aquacorp)
10h55 | Break
11h25 | Where can you find financial support for scaling up your water-related venture? | Presenter and moderator: Eva Enyedi (EIT Climate KIC) with the collaboration of:
Gaëtane Suzenet (International Impact Partners)
Maria Cristina Pasi (Izar)
12h05 | How much do you know about water management? | Ivana Lukacova and Blanca Chocarro (EIT Manufacturing )
12h35 | Gulbenkian Water – The value of water in the agri-food industry | Maria do Rosário Palha (Fundação Calouste Gulbenkian)
12h50 | CLOSURE