Water Innovation Europe – 2020 Digital Edition
June 21, 2020

-

June 26, 2020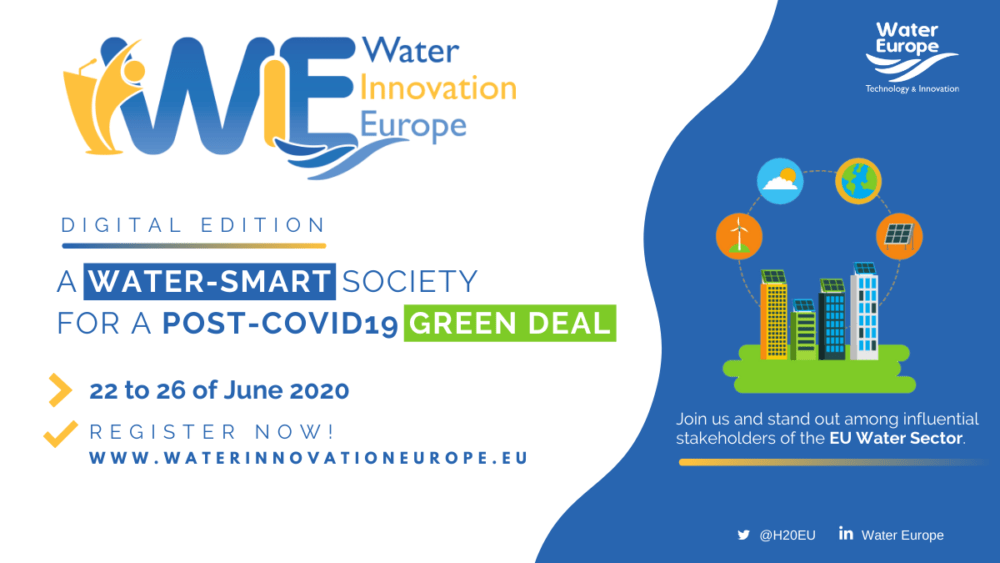 A Water-Smart Society For A Post-COVID19 Green Deal
Water Europe has decided to move forward with an all-digital edition of their annual conference Water Innovation Europe (WIE) 2020. Water Innovation Europe 2020 turns into an online 'Innovative Water Week' with Online plenary sessions, digital Working Group meetings, digital networking and digital exhibition opportunities which will take place from 22nd to 26th of June 2020.
Water Europe, the recognized voice and promoter of water-related innovation and RTD in Europe, organizes annually this Innovative Water Week which has become the landmark event of the European water value chain every summer. The event brings together all the aspects of the sector: scientists and technology developers, utility representatives, large water users, European Public authorities, civil society organizations and finance experts. Water Innovation Europe offers an open platform for information gathering and networking among the most influential stakeholders from within and beyond the water sector.
Antonia Lorenzo from Bioazul, as a leader of the Water and Agrifood Working Group of the Water Europe, will participate in the session "Water & ICT WG" on Monday 22nd. She has been also invited to talk in the Session 3: "A Water Smart Society to provide healthy Food for EU citizens" on Wednesday 24th.