Bioazul has been chosen as the winner for the 2020 G7 – EU Women's Empowerment Principles Award for the best SME for contributing to gender equality in its organization and community. This award recognizes WEPs signatories' exceptional championship of gender equality in the G7 countries an in the European Union.
The year 2020 marks the 10th anniversary of the Women's Empowerment Principles, which now have more than 4,200 signatories. The Women's Empowerment Principles (WEPs) are a set of Principles offering guidance to business on how to promote gender equality and women's empowerment in the workplace, marketplace and community. Established by UN Global Compact and UN Women, the WEPs are informed by international labour and human rights standards and grounded in the recognition that businesses have a stake in, and a responsibility for, gender equality and women's empowerment. Bioazul is signatory of the WEPs since April 2020.
To mark this occasion and utilize the momentum to showcase progressive private sector action toward gender equality and mobilize more companies to embrace the WEPs, UN Women organizes the 2020 WEPs Award for companies in G7 countries and in the European Union. The Award ceremony has taken placed on 10th December 2020, which is also the Human Rights Day, showcasing companies that align with responsible business conduct and human rights principles. Bioazul won the WEPs award for the best SME for contributing to gender equality in its organization and community. In this category the company FlyTechnista ranked second and wisHer in third place.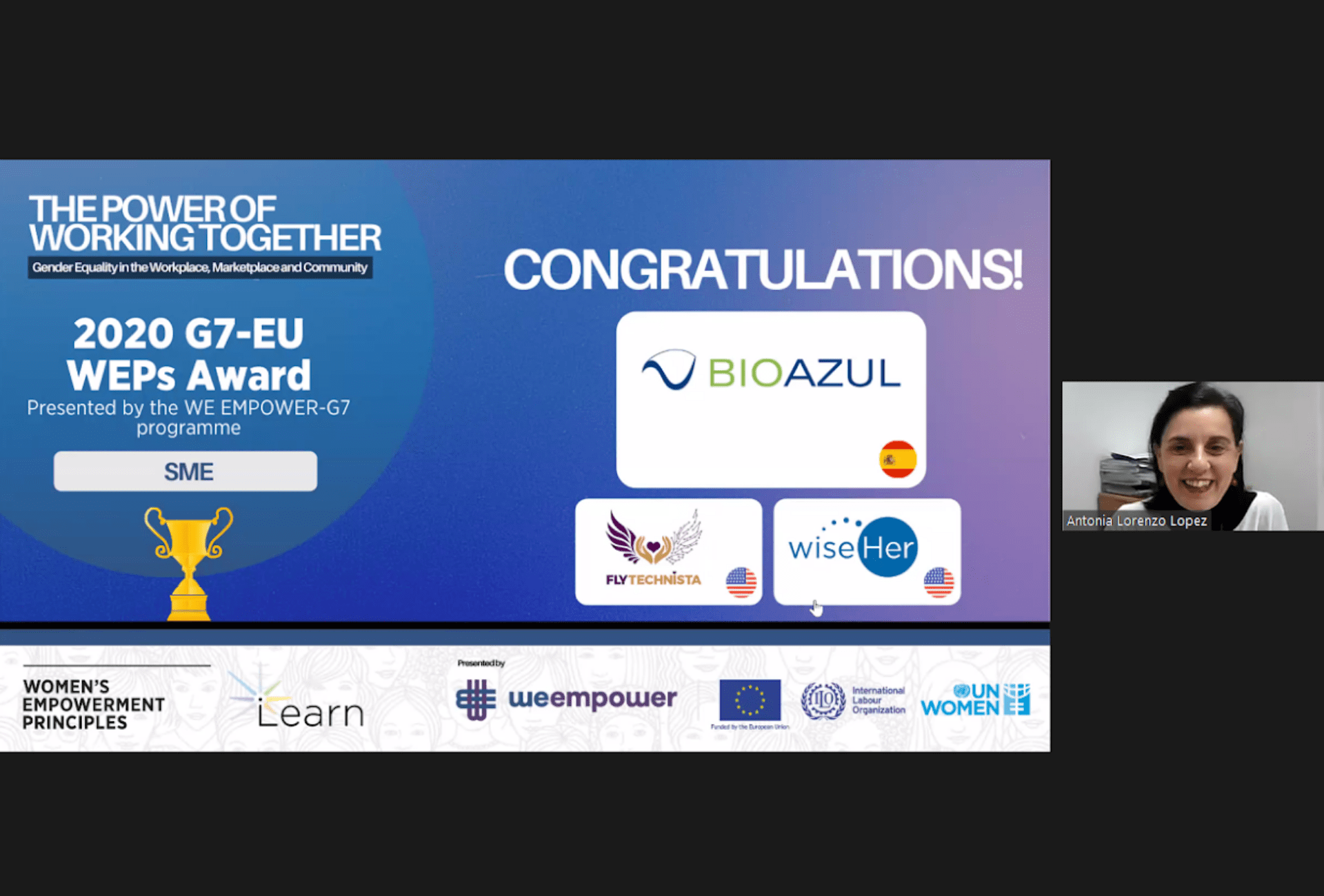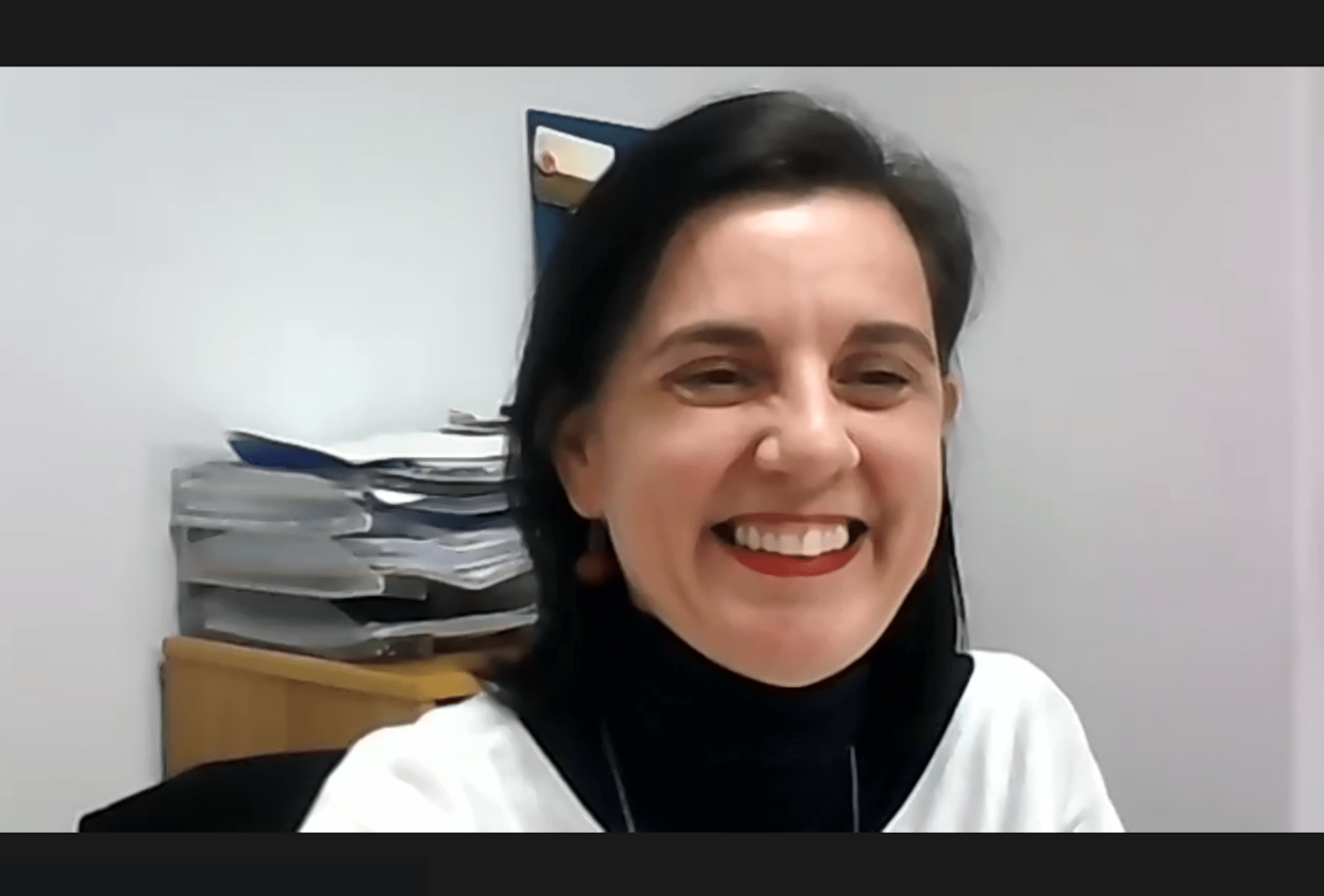 Bioazul team is very happy and honoured for this award which means a very important recognition of our daily efforts to challenge gender stereotypes and to empower women, and it highly motivates us to keep on reinforcing the involvement of women in R&D and innovation projects, in the participation on the events organised by Bioazul, and encouraging our partners to implement gender equality measures in their organizations. We really hope it serves as an inspiration for other SMEs and entrepreneurs.
Bioazul applied for the Best SME Award for its work to guarantee the gender equality in the organization and promoting it in its professional activity. The main action we highlighted was focused on women empowerment to increase their participation in research, development and innovation projects promoted by Bioazul as well as those in which we participate as partner. Bioazul has participated in more than 40 international R&D and innovation projects since its creation, in which we have taken the necessary measures for the active participation of women from our team. Our projects are aligned with the EC's Gender Equality Strategy in H2020, the European policy for equal opportunities between men and women, and the principles for Responsible Research and Innovation, aiming to reinforce the active role of women not only in science and research, but also in technological developments, marketing and management activities.
Also, the women participating in the projects have been encouraged to assume decision making positions to promote diversity in management areas and to contribute to achieving the objective of 40% of women in decision-making, which is key for sustainable and inclusive growth.
Two examples of projects coordinated by Bioazul are:
Water2REturn around a third of the scientist, engineers and technicians involved in the project are women (56 participants of which 20 are women (36%).
SUWANU EUROPE in which work 22 highly qualified women, a high proportion of the managers and scientists involved in the activities planned in the project (30.6%).
RichWater with a consortium formed by a 42% of women, in which the positions of General Coordinator and the main Scientist are occupied by women.
We are working on a Gender Equality Action Plan for our company to act as a roadmap to advance gender equality and women's empowerment. This plan will be based on the results obtained in the WEPs analysis tool and will guide the company gender equality policy and next actions. The Gender Equality Action Plan will be focusing on the following areas:
Advocay.We will continue using our networks and public spaces to promote gender equality in companies, the community, and the marketplace.
Responsible Marketing. In order to ensure women's full and effective participation and equal opportunities for leadership at all levels of decision-making in STEM we will pay special attention to our marketing materials. Our materials will need to be gender neutral and focus on empowering women whenever is relevant to fight gender stereotypes.
Mentoring and creating alliances focused on Gender Equality. We have the commitment to create more alliances with other women in our network, to create synergies and generate spaces in which we can provide mentoring to other women for developing their careers.
Women participation in Bioazul activities. We will keep on reinforcing the involvement of women in the activities, R&D and innovation project, and any event organized by Bioazul, both as speakers and as participants.