The Circular Economy is a model that aims to minimize the consumption of resources, while reducing the amount of residues that are generated, by applying more efficient and sustainable processes to ensure that the resources remain in the value chain longer. This is especially important since the natural resources on the planet are limited and this poses a risk not only for the economy, but also for life on the planet.
In this way, the Circular Economy implies a change in the production and consumption system at all levels. Circular practices focus primarily on reusing, repairing, and redesigning products in a way that reduces dependency on new resources, recovering the value of resources that are already being used. Furthermore, the circular economy aims to regenerate the natural systems that provide these resources.
CIRCULAR ECONOMY CATEGORISATION
The lack of a commonly accepted and inclusive definition and circularity measurement methodology hampers the transition to a more circular economy. It obstructs the development and access to dedicated or non-dedicated finance, credit risk assessment, and the transferability and replicability of projects and investments across regions and jurisdictions. To overcome this, the Expert Group on Circular Economy Financing proposes a sector agnostic circular economy categorisation system that defines categories of activities substantially contributing to a circular economy.
The proposed Circular Economy Categorisation system consists of 14 circular categories organised in 4 high level category groups or models. These groups align with the Value Hill Business Model Tool developed by Circle Economy shown below.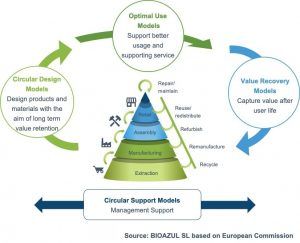 The 4 high level categories groups are:
Group 1 – Circular Design and Production Models: Activities contributing to Circular Design and Production aim at increasing resource efficiency through design innovation, process innovation and reengineering and/or material innovation and substitution. While such interventions take place early in the product lifecycle, their positive environmental impacts mostly materialise in the use and after-use phases and through reduced use of virgin materials.
Group 2 – Circular Use Models: Activities contributing to Circular Use aim at increasing resource efficiency through product and asset lifecycle extension based on reuse, repair, repurposing, refurbishment or remanufacturing strategies and/or product and asset use-optimizing leasing and sharing models. Such interventions typically take place during or at the end of the use phase of products and assets.
Group 3 – Circular Value Recovery Models: Activities contributing to Circular Value Recovery aim at increasing resource efficiency through the recovery of wastes in preparation for reuse and recycling or other circular economy strategies. Such interventions typically take place during the after-use phase of products and assets.
Group 4 – Circular Support Activities in the Circular Support category group aim at enabling other circular activities/projects and thus indirectly contribute to increasing resource efficiency.
What is common to all circular categories listed above is that they contribute, directly or indirectly, to increasing resource efficiency and decreasing environmental impacts throughout value chains. This can be achieved by applying or enabling one or more of the following 9 circular economy 'R' strategies or principles, referred to as the 9 R's:
Refuse. Make product redundant by abandoning its function or by offering the same function by a radically different (e.g. digital) product or service.
Rethink. Make product use more intensive (e.g. through product-as-aservice, reuse and sharing models or by putting multi-functional products on the market)
Reduce. Increase efficiency in product manufacture or use by consuming fewer natural resources and materials.
Re-use. Re-use of a product which is still in good condition and fulfils its original function (and is not waste) for the same purpose for which it was conceived.
Repair. Repair and maintenance of defective product so it can be used with its original function.
Refurbish. Restore an old product and bring it up to date (to specified quality level)
Remanufacture. Use parts of a discarded product in a new product with the same function (and as-new-condition)
Repurpose. Use a redundant product or its parts in a new product with different function
Recycle. Recover materials from waste to be reprocessed into new products, materials or substances whether for the original or other purposes. It includes the reprocessing of organic material but does not include energy recovery and the reprocessing into materials that are to be used as fuels or for backfilling operations.
NEW CIRCULAR ECONOMY ACTION PLAN
The transition to a more circular economy is an essential contribution to the EU's efforts to achieve a sustainable, carbon-neutral, resource-efficient and competitive economy. Along these lines, as part of the European Green Deal package of measures, a new Action Plan for the Circular Economy has recently been published, which continues the work started by the EU in 2015. The new Action Plan sets out more ambitious short-term goals, helping the economy make the transition to this new model.
The new Action Plan announces initiatives along the entire life cycle of products, targeting for example their design, promoting circular economy processes, fostering sustainable consumption, and aiming to ensure that the resources used are kept in the EU economy for as long as possible.
These measures focus on the following lines of action:
Sustainable products. The Commission will propose legislation on Sustainable Products Policy, to ensure that products marketed on the EU market are designed to last longer, are easier to reuse, repair and recycle, and incorporate as much as possible recycled material instead of primary raw material. Single-use will be restricted, premature obsolescence tackled and the destruction of unsold durable goods banned.
Empower consumers. Consumers will have access to reliable information on issues such as the reparability and durability of products to help them make environmentally sustainable choices. Consumers will benefit from a true 'Right to Repair'.
Focus on sectors that use the most resources and where the potential for circularity is high, such as:

Electronics and ICT: Extend the shelf life of products and improve waste collection and treatment.
Batteries and vehicles:

new regulatory framework for batteries to improve sustainability and increase the circular potential of batteries.

Packaging:

new mandatory requirements on what is allowed in the EU market, including the reduction of overpacking.

Plastics – new mandatory requirements for recycled content and special attention on microplastics as well as biobased and biodegradable plastics
Textiles:

a new EU strategy for textiles to strengthen competitiveness and innovation in the sector and boost the EU market for the reuse of textiles.

Construction and buildings:

a Strategy for a Sustainably Built Environmen

t that promotes circularity principles for buildings.

Food, water and nutrients:

the "Farm-to-Fork" strategy to reduce food waste. Fostering circular approaches to water reuse in agriculture. Integrated Nutrient Management Plan, to guarantee a more sustainable application of nutrients and the stimulation of the recovered nutrient markets.

Reduce the generation of waste. The aim is to avoid waste and transform it into high-quality secondary resources. The Action Plan also puts forward a series of actions to minimise EU exports of waste and tackle illegal shipments.
A circular economy that works for people, regions, and cities.
Leading efforts in circular economy at a global level.