The transition towards a circular economy requires changes both in the productive systems and in the practices and consumption patterns of all actors in society, including the public administration.
Ensuring that public expenditures support the objectives set by the European Green Deal and the New Circular Economy Action Plan, requires that public authorities lead by example and support companies investing in circular solutions by facilitating their access to public tenders. Public authorities' purchasing power represents 14% of EU GDP and can serve as a powerful driver of the demand for sustainable products.
Circular public procurement is an approach to greening procurement which recognizes the role that public authorities can play in supporting the transition towards a circular economy.
It seems to be an ideal (but not an easy) step to realize circular economy principles in practice, in response to resource management linked to primary resource scarcity and depletion. It should help stimulate the demand for more sustainable goods and it is therefore a strong stimulus for social or eco-innovation.
As defined by the EC, Circular public procurement can be defined as "the process by which public authorities purchase works, goods or services that seek to contribute to closed energy and material loops within supply chains, whilst minimizing, and in the best case avoiding, negative environmental impacts and waste creation across their whole life-cycle".
Circular procurement focuses on the use of resources, effectives use of materials and reusability of the whole product and it aims to amplify the positive impact of the procurement process. Circular procurement does not only set sustainable criteria but promotes a new form of interaction between the procurer and supplier(s) with the aim to find new innovative ways to reach positive impacts on economic and environmental development and social well-being. Circular procurement models can be developed at the system, supplier, and product level, as summarized below: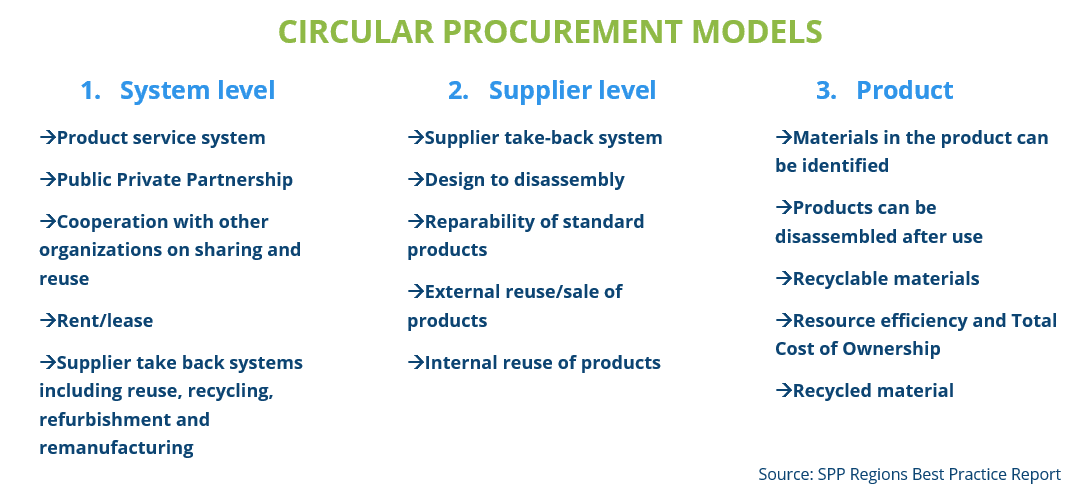 Nowadays, some public entities already carry out acquisitions aligned with the principles of the circular economy, for example, the purchase of recycled products and materials, the inclusion of durability and repairability requirements of the acquired goods, etc. Even so, it is still necessary for a full implementation to continue advancing and introduce changes in the different stages of purchasing and contracting to obtain more circular solutions, especially in the initial phase of defining the needs and identifying the best strategy to cover them.
At Bioazul we are working on InCEPPP project, innovative method of circular economy in public and private procurement, a European project, financed by the Erasmus+ programme under the European Commission Framework, which aims to create and evaluate methodologies for circular economy in public and private procurement.
For more information: