Bioazul participated in a workshop focused on Nature-Based Entrepreneurs (NBEs) held last March 11 during the III Nature-based Solutions International Seminar in Brasília (Brazil).
This seminar was part of the EU-Brazil Sector Dialogues event which helps to further disseminate nature-based solutions and stimulate synergies between the different actors working in the area.
Connecting Nature project had a special session during this event on Nature-Based Entrepreneurs, organised by ICLEI (Local Governments for Sustainability). This workshop was organised in line with UrbanByNature's vision for local governments, civil society and companies to have more resources to overcome urban environmental, social and economic challenges and create a more sustainable and resilient urban future through nature-based solutions.
The workshop brought together not only Brazilian Small and Medium Enterprises (SMEs) and consultants, but also city administrators, academic actors, NGOs and civil society, which all together accounted for more than a hundred people.
A discussion round on the potential of a regional Brazilian "NBE Cluster" was carried out, pointing out that there is interest for such a cluster and recognition of its potential. The round started with the presentation of Bioazul about its experience on creating a NBS Cluster in Malaga (Spain). This Cluster on Nature-based Solutions, created in May 2019, is an association formed by businessmen, professionals, authorities and researchers who share the knowledge and skills necessary to seek sustainable solutions to specific problems arising from the climate crisis.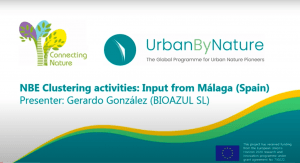 After, Connecting Nature invited participants offering services or products related to Nature-based Solutions to fill in the Connecting Nature's NBE survey, which can still be completed.
The session ended with UrbanByNature, which presented its achievements so far (kick-off event at the EU-Brazil Sector Dialogues in 2018 and 8 webinars on different topics related to NBS (over 30 videos), all available in Connecting Nature's YouTube channel).