Since last October 2019, Bioazul started working on the European Project U-ECO focused on the transition towards a more creative Circular Economy.
In order to achieve a Circular Economy model, it is necessary to equip professionals with a comprehensive knowledge of circular businesses and offer them new skills and tools that allow them to develop future strategies in this area. This training in Circular EconomyCircular Economy would be a key instrument to boost the employability, self-employment and meet the new labour market demand.
U-ECO is an innovative project aimed to support people to acquire and develop the appropriate skills and competences in the Circular Economy to meet the growing demands from the labor market. U-ECO also seeks to promote self-employment within this context through access to training pathways. Among its main actions, U-ECO aims to:
Design and implement a training strategy.
Inspire potential entrepreneurs with successful case studies and good practices.
Create a manual for trainers.
To carry out these actions, a study will first be carried out on the current state of development of the Circular Economy in the European Union and the most potential areas of self-employment and the most required profiles of workers will be identified. In addition, the different opportunities and benefits offered by the Circular Economy model versus linear model will be disclosed. This project is aimed at entrepreneurs interested in starting their own business in a Circular Economy context and professionals interested in learning about circular business models.
The project held its initial meeting in Malmö last November 2019. For two days, the different project partners were able to discuss each other's main ideas and visions about the project. In addition, they defined the main objectives for the effective development of the U-ECO project.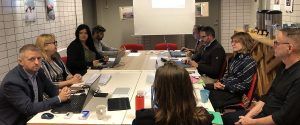 The initial part of the research carried out at U-ECO has been summarized in a press release that identifies five main areas with entrepreneurship potential and adequate business strategies to close the future gap between demand and entrepreneurial business solutions based on the U-eco approach:
Biomass and bio-based products (agriculture, food, energy).
Water treatment and reuse.
Plastics, secondary materials and innovation.
Digitalization, sharing platforms and services (product as a service).
Construction and demolition.
Facing this upcoming transition and future potential, the U-ECO partners are elaborating a catalogue of 15 job profiles that will be demanded in the next decade to meet the new labour demand in the five identified areas with highest growth potential. The elaboration is being executed through an analysis of different reports and a survey addressed to experts in the future affected sectors.
If you are interested, you can participate in the survey by clicking here.